TechniKlean UVGI /Ultraviolet Germicidal Irradiation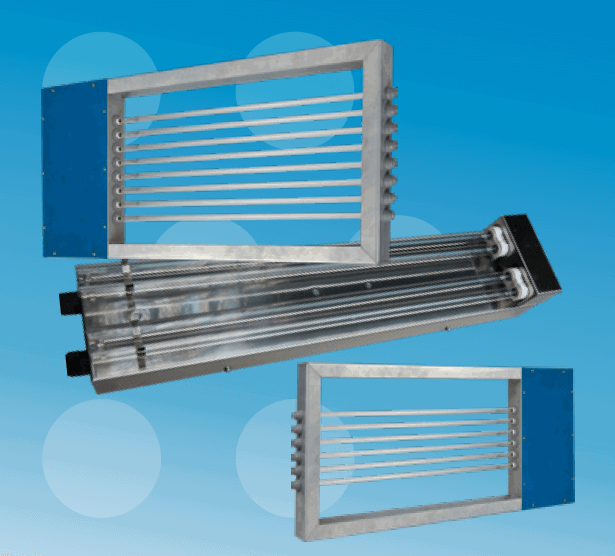 Our TechniKlean UVGI units are the perfect solution for introducing UVGI technology into new and existing ductwork, within a vast range of sectors. Designed for continuous operation with minimal maintenance, TechniKlean UVGI are high efficiency in-duct UVGI units. Their high output, non-ozonating UV lamps produce high intensity UV-C light at 254nm and boast an operating life of up to 10,000hrs.
The TechniKlean UVGI comes in three variations; 2 lamps, 6 lamps and 8 lamps. Starting with 100 x 555 x 120 (HWL mm)*, this features the option of connecting multiple units for increased volume or efficiency. Finished in Grade 304 stainless steel and weighing just 3kg, the compact unit can be installed into ductwork via an access panel or into a purpose built unit or AHU accordingly.
Moving up to the corrison resistant, Zintech finished units; the six and the eight lamp UV-C variants measure in at 525 X 1055 X 80. For high volume installations, these 12 and 14kg units can also be joined together for even greater efficiency. Combining the very latest long-life lamps with perfectly matched power supplies, TechniKlean UVGI delivers superior performance and enhanced lifetime.


Introduction to UVGI • Ultraviolet Germicidal Irradiation
Ultraviolet light in the c-band range (225–302 nm) is lethal to micro-organisms and is referred to as ultraviolet germicidal irradiation (UVGI). UVGI works by cross linking nucleic acids (DNA & RNA) to prevent replication and proliferation of micro-organisms such as viruses, bacteria, spores, moulds, yeast and fungi. It is important to use the correct UV-C dosage in order to achieve high kill rates. Low intensity UV-C can be used for surface treatment as there is a long UV-C exposure time whereas high intensity UV-C is required for air treatment as the exposure time is short. Plasma Clean UVGI systems are sized to achieve up to 99% microbial kill rate for common microbes based on UV-C dosage tables in the scientific literature as well as independent testing carried out by Plasma Clean.
Plasma Clean's germicidal range consists of the CoilKlean UVGI for surface treatment of heat exchange coils, the AirKlean UVGI unit which is a standalone air cleaner and the TechniKlean UVGI series designed to treat air in building ventilation systems.
Air Treatment using TechniKlean UVGI
The TechniKlean UVGI range has 2, 6 & 8 lamp options and designed to fit inside an Air Handling Unit where the linear velocity is approximately 2.5m/s.
The design duty for this range is as follows:

Sizing of Equipment – TechniKlean UVGI
To accurately specify the correct equipment to ensure optimum germicidal performance, the following information is required:
Volume flow rate – m3/s
Height x Width and Length of the AHU compartment where the UVGI equipment is to be installed
Temperature
% recirculating or fresh air?*
Type of micro-organism that is being treated**
Installation
For best results, TechniKlean UVGI 2L systems are to be installed with the UV-C lamps parallel with air flow known as 'axial flow' configuration and UVGI 6 & 8L systems are to be installed with the UV-C lamps perpendicular to air flow known as 'crossflow' configuration. This can be achieved by installing runners into the air handling unit (not supplied). It is important to ensure that the UV-C light intensity throughout the kill zone is maintained and systems must be designed so that the maximum distance from the lamp to the edge of the effective kill zone is no more than 300mm from the lamp. This will create an effective kill zone of 600mm for the TechniKlean UVGI 6L and 8L units. For surge protection purposes it is recommended to install a Class D MCB circuit breaker in the electrical supply.
Kit Contents
TechniKlean UVGI lamp rack with built in ballast box
Mains power cable – 2m
Accessories
Control panel with air flow interlock and fault relay with BMS connectivity. Other control panels are available, please enquire.
UV light guards
Safety
For UV-C safety, an internal safety switch is located in the 6L and 8L lamp frame which requires a door mounted actuator to activate, please enquire.
Maintenance
Servicing is normally confined to the regular cleaning of the UV-C lamps as part of a maintenance programme managed by your facility department or as per maintenance contract with 5ine Concepts.
For maximum efficiency establish a regular cleaning cycle based on routine checks of the UV lamps during the first few months of use.
The UV lamps have a normal operating life of 10,000 hrs after which time they should be replaced.
Technical Drawing
Please contact us at plasma@5ineconcepts.com for quotation and price or if a CAD drawing is required.
Plasma Clean 5ine Concepts - TechniKlean UVGI - Data Sheet.pdf